2022 saw temperatures in the UK reach in excess of 40oC for the first time since records began. With 2023 predicted to be yet another scorcher of a summer, here are some things you can do to plan ahead and protect your garden during a heatwave.
Think about zoning and potential garden hot spots
If you are planning a garden makeover, think about how the sun travels around your garden and plan your different zones accordingly. For example, if you enjoy eating alfresco but don't want to sit in a sun trap then plan your patio in areas that receive sunlight at manageable times of the day such as early morning or late evening. If you have a family think about creating play zones for children by placing a sandpit, trampoline, climbing frame or swing set in the shadiest part of the garden. Placing your BBQ or outdoor kitchen in a late afternoon or early evening sunny spot means you can cook as the sun goes down.
If you are struggling to find any natural shade, then you can create your own by using wooden or composite features such as pergolas and arbours.  Choose one with a slatted top and sides and then encourage climbing plants to grow around your structure, creating a shady spot to entertain or relax in. If you do have any trees in your garden, position garden structures nearby, as trees create a cooling effect and can lower air temperatures.
Check out our outdoor living wooden feature range.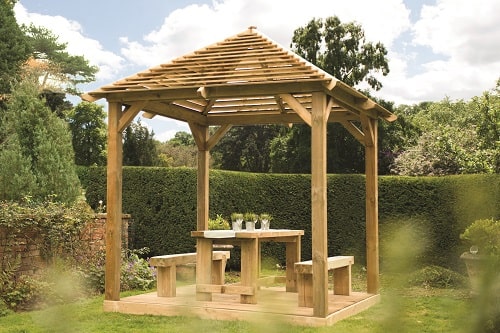 Don't get hot underfoot
If you are installing a new patio, think carefully about the material you choose. Lighter coloured patios won't get as hot underfoot as darker ones. You could go one step further and select a composite decking or, even better, a porcelain patio which is ideal for hot weather. Due to the unique manufacturing process that porcelain paving goes through it has a high resistance to heat making it safe to walk on in warmer weather and perfect for small children and pets. It is also UV resistant so will not fade in the sunshine, is also stain and scratch resistant and is exceptionally easy to maintain.
View our stylish porcelain paving range.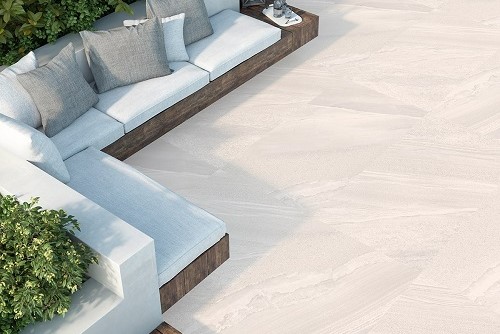 Think about your boundaries
Untreated wooden fencing is likely to fade or crack in extreme heatwaves so painting, staining and oiling should be undertaken at least once a year to maintain UV protection. Lighter coloured fencing will also absorb less heat than darker shades and may show less signs of damage caused by heat.  
If you have a smaller garden or terrace, allow air to circulate by using fencing with spaces rather than block walling for your boundaries.
Check out our decorative fence panel range.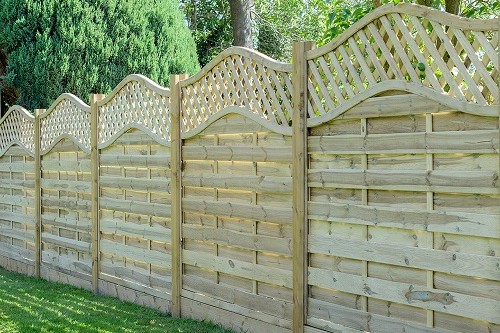 Be waterwise!
During hot periods your garden needs more water than usual to thrive. However, hosepipe bans are likely to come into effect during extreme hot weather so it is a good idea to conserve rainwater using water butts throughout the year which can then be used to water your garden during hot weather and potential hosepipe bans. It is also important to water your garden early in the morning or late at night during heatwaves allowing the water to soak into the ground and soil rather than evaporating. Using a good quality mulch on your soil will also help slow down water evaporation, helping keep plants and flowers hydrated for longer. Finally, think carefully about what you are planting as some varieties of plants and foliage are far more resistant to extreme heat than others.
If you don't have the time to keep your lawn well maintained and hydrated, particularly during hot weather, then you could consider an artificial grass. AIR® Grass is the ideal choice for those looking for a low maintenance and practical alternative to natural turf.  Designed to be low-maintenance and look great all year round, artificial grass does not require mowing, watering or weeding. It is also UV stabilised which means that it will not fade or discolour in direct sunlight. Using a technology which can reduce 70% of harmful nitrogen gases, 1m2 of AIR® Grass will have the same air purifying effect of one mature tree.
Check out our range of artificial grass.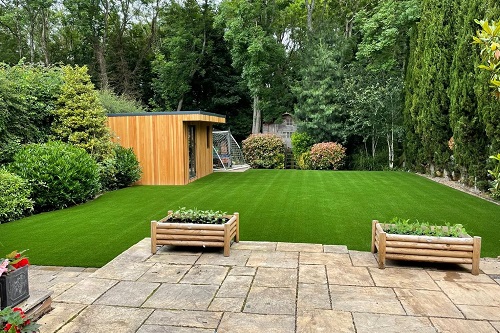 Be smart and think solar!
If you have a garden that has a large amount of sunlight in the summer months, then you could benefit from installing solar panels so you can generate solar energy and reduce your home energy bills! You could also think about solar powered lighting to illuminate your garden on darker evenings, highlighting features such as rose bushes or ornamental shrubs or consider placing small solar lanterns throughout flower beds and under trees with large branches to create enchanting and dramatic silhouettes.
View our full landscaping section for all of your garden essentials.
Most MKM branches have landscaping displays for you to browse our range or speak to our experts.