An essential part of your kitchen or bathroom, you wouldn't think the tap could come in so many different varieties. There are plenty of different kinds of tap to choose from, and they're different in a number of ways – mainly the style, the way they work, and the pressure required. Here's our quick guide to your options.
Styles
Pillar taps

The most traditional style, pillar taps are the classic "hot and cold" style – two separate taps, one for each temperature.
Mixer taps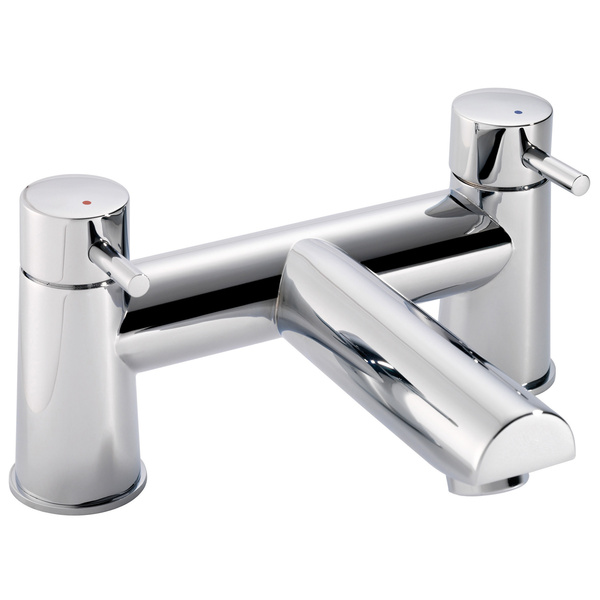 Mixer taps have two different handles, one for hot and one for cold – like pillar taps – but the supplies are mixed inside the tap and the water comes from one nozzle.
Monoblocs

Monobloc taps operate in a similar way to mixer taps, in that the hot and cold water supplies are mixed inside the tap, but the temperature and flow is controlled with just one handle – twisting it to the left or right adjusts the temperature.
Mechanisms
Washers
Compression washer taps are the oldest mechanism available, and always come in the form of pillar taps. Twisting the handle causes a washer to move up and down, which controls how much water flows through.
Disc taps
Disc taps are monoblocs with a wide, cylindrical shape containing two ceramic discs inside. Each disc has a hole that allows water to pass through when both are aligned. Because of the simple on/off method, they won't require much turning to achieve full power.
Ball taps
Ball taps are monoblocs with rounded shapes, as they contain a hollow ball which, when moved, controls water temperature and power. This allows for the most control over water flow, but is also the most prone to leaking.
Cartridge taps
Cartridge taps can be either monoblocs or mixers. They contain cartridges which move from left to right to control temperature, and up and down to control flow strength.
Pressure
Most taps will work fine whatever your water pressure is at home, but some – usually single-lever taps – will need a higher pressure in order to work properly. Mixer taps with two levers, on the other hand, will just need the pressure for the hot and cold water supplies to be equal. Your local water company can tell you about the pressure at your home but, as a rule, a combi boiler will provide a high water pressure whereas an older gravity system – with a cold water cistern in the loft and a hot water tank elsewhere – will have a lower pressure.
Finishing touches
After you've worked out which taps are the right ones for your home, all that's left is to settle on a finish. Chrome, brass and minimalist black or white styles are all available, meaning it's easy to find the perfect taps for any room. If you need any more advice on choosing the right kinds of taps for your kitchen or bathroom, get in touch with the experts at MKM, or stop in and visit us in store.