Make oven cleaning a thing of the past
What is a Pyrolytic Oven?
NEFF Slide&Hide® Ovens with Pyrolytic Self-Cleaning take away the hassle and worry of having to manually scrub your oven clean using harsh detergents. With the simple press of a button, you can have a gleaming oven cavity in just over 1 hour.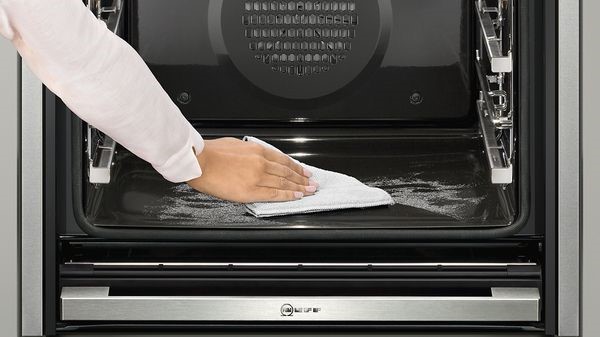 How does a Pyrolytic Oven work?
Pyrolytic Self-Cleaning is easy to use and requires minimal effort. Simply choose your preferred cleaning programme, and the oven's temperature will rise to up to 485 degrees, turning any baking, roasting or grilling residue into a small pile of ash for you to simply wipe away.
Cleaning programmes
All of our Pyrolytic Self-Cleaning ovens come with EasyClean®, an efficient cleaning aid which is ideal for when a full Pyrolytic cycle isn't required, for example lightly soiled ovens. There are also three cleaning programmes to choose from depending on the intensity of cleaning you require: -----Light residue: approximately 1 hour 15 minutes
-Medium residue: approximately 1 hour 30 minutes
-Intensive cleaning: approximately 2 hours
Is the Pyrolytic Self-Cleaning function safe?
The Pyrolytic Self-Cleaning function reaches high temperatures in order to complete the oven clean thoroughly, however it is completely safe thanks the following safety measures put in place: -All NEFF Pyrolytic Oven doors have four panes of glass to ensure the surface temperatures are maintained within acceptable standards -The cooling fan is boosted during the cleaning process to ensure adjacent furniture is not damaged -The oven door locks once the internal temperature goes over 300°C and cannot be opened until the programme is complete and residual heat has dropped to manageable a level  
Circotherm® 
Circotherm® is a unique hot air fan system with a powerful element which means the preheating times are kept to a minimum.
This process allows you to cook, roast and bake completely different dishes on all levels and everything will come out tasting like it's supposed to. With no intermingling of flavours, the roast meat will taste like roast meat, and the muffins will taste like muffins.
VarioSteam® 
VarioSteam® gives dishes just the right amount of moisture by adding steam at three intensity levels, for baking, roasting or just heating up. Foods come out with more intense flavour and an appetising appearance.
FullSteam
Make your favourite dishes healthier by locking in food's nutrients and flavour with our FullSteam function. It's easy to operate and also simple to refill the one litre water container – press a button to open the front panel, remove the container, fill it and you're ready to steam ahead.
Meat Probe
The Multi Point Meat Probe measures the joint's heat at three points and the Single Point meat probe measures in one point, ensuring the right core temperature is reached, so you can take the roast out when its ready
Looking to find out more about incorporating NEFF appliances into your kitchen? Visit your local MKM and speak to one of our dedicated kitchen specialists.