You may have seen that there have been some changes to Part L of Building Regulations this year. It can be hard to get to grips with the changes, so we've broken this down below, to help everyone get their heads around what it means for them.
What is changing?
Part L of the Building Standards have been updated ahead of the Future Homes Standard being introduced in 2025 and are being referred to as an 'interim uplift'. We'll tell you more about this when it's been announced, so keep in touch.
The regulations are changing to improve energy efficiency in residential and non-residential buildings. The changes apply to new builds as well as home renovations and extensions.
The interim uplift to Part L requires at least a 31% reduction in emissions compared to current standards for new developments.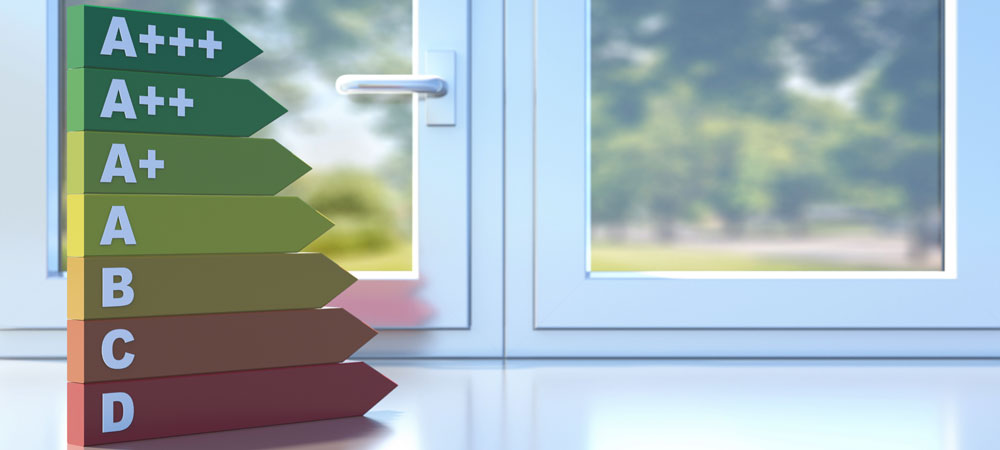 Why is this changing?
Housing and buildings are a major source of carbon emissions, at around 23% of the UK's overall emissions, with cars and taxis accounting for 15%. 
The UK Government is bringing these changes in as part of the long term net zero carbon emission target (by 2050). Called the 2021 Part L Uplift, it was originally due to come into effect in June 2021 but was delayed due to the pandemic. They will help provide a smooth transition to The Future Homes & Building Standard being introduced in 2025.
| Objective | Purpose |
| --- | --- |
| Reduce carbon emissions in residential buildings | Reducing energy needed to heat/cool buildings Stimulate move away from fossil fuel heating homes Improving access to electric vehicle charging points |
| Reduce carbon emissions in non-residential buildings | Reducing energy needed to heat/cool buildings |
| Improve ventilation | Improved air quality and safety from allergens and viruses |
| Prevent overheating in new builds | Less reliance on cooling methods that use energy |
| Address any performance gap between design and actual construction | To ensure the completed works, and therefore the performance, reflect the design |
Exemptions
If your project is subject to building notice, full planning application, or initial notices submitted before 15 June 2022, then the updated Part L does not apply providing the work for each plot is started before 15 June 2023.
If a building notice, initial notice, or full plans were submitted before 15 June 2022, they will still be considered under the previous standards and work can go ahead, provided building work starts before 15 June 2023. This change over period is known as 'Transitional Arrangement'.
For new buildings that gained planning permission under the old regulations, work must have been started on a plot by 15 June 2023 or the new regulations will apply.
Key Change – Moving from BY SITE to BY INDIVUDAL PLOT for commencement dates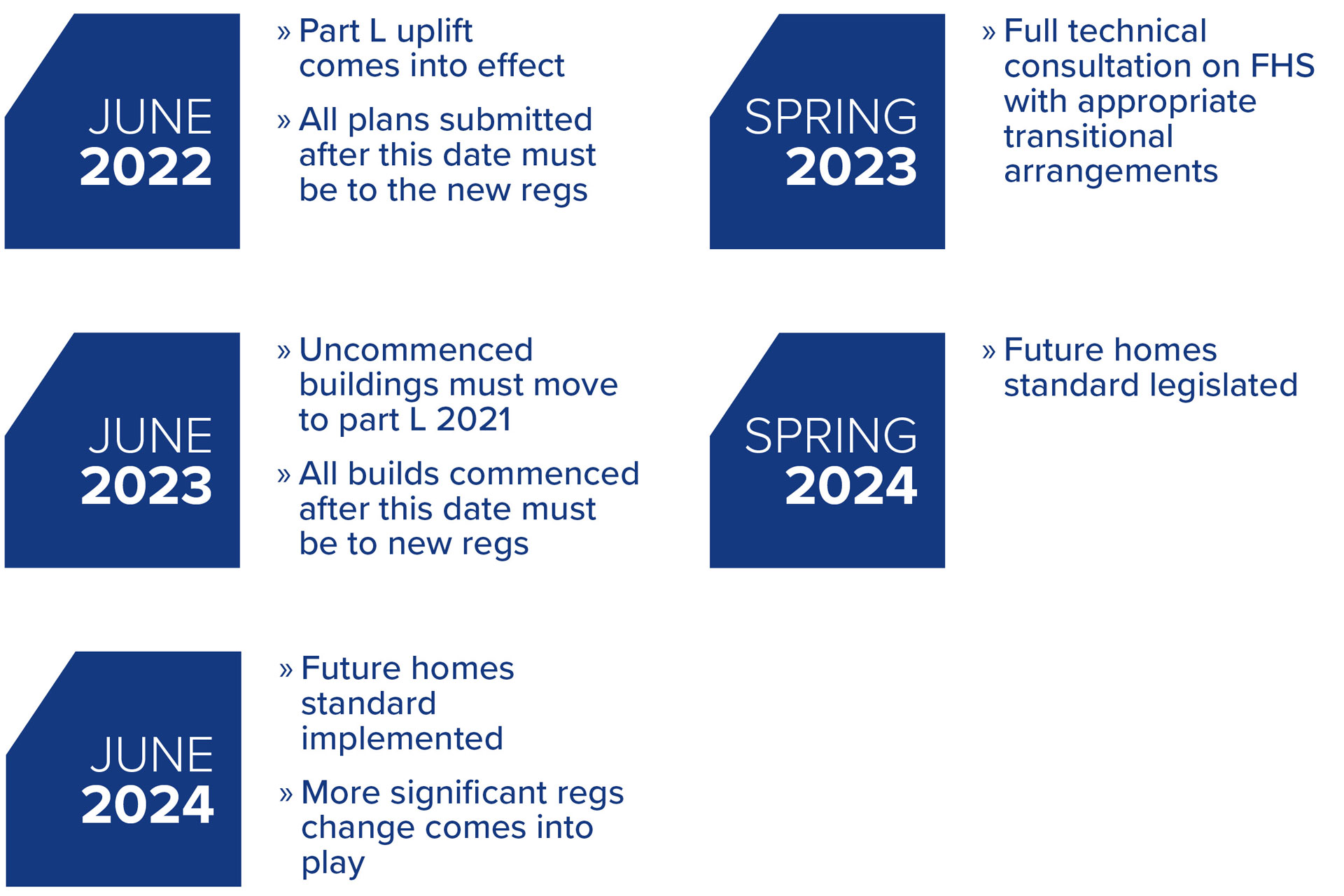 Changes for new builds
Builders are encouraged to build to what is called the 'Notional Values' which are a set of target performances that if met, will mean the building passes through the assessment. These values aren't changing.
However, to allow for flexibility in the design there is a set of backstop values, which represent the worst permitted energy performance per structural element so long as the overall building is compliant.
The backstop values for new builds have been reduced, by bringing these in it helps to improve the overall building performance.
| | | |
| --- | --- | --- |
| Element/System | Old Regulations | New wit h Uplift |
| External wall | 0.30 W/m2K | 0.26 W/m2K |
| Party wall | 0.20 W/m2K | 0.20 W/m2K |
| Floor | 0.25 W/m2K | 0.18 W/m2K |
| Roof | 0.20 W/m2K | 0.16 W/m2K |
Changes for existing dwellings
For extensions, the external wall requirement has been improved from 0.28 W/m2k to 0.18 W/m2k, and the minimum values for doors, windows and roof windows have improved from 1.6 to 1.4.
For renovations of non-living spaces into heated living spaces, such as a garage conversion, the requirements have improved across the board!
| | | |
| --- | --- | --- |
| Element/System | Old Regulations | New with Uplift |
| Cavity Wall | 0.70 W/m2K | 0.55 W/m2K |
| Wall with internal/external insulation | 0.70 W/m2K | 0.30 W/m2K |
| Floor | 0.70 W/m2K | 0.25 W/m2K |
| Roof | 0.35 W/m2K | 0.16 W/m2K |
The impact of Thermal Bridges
Due to massive improvements in U-Values within building elements, the main source for heat loss in buildings is no longer through the element itself (wall, floor, roof) but through the points in which different elements meet, such as doors, windows, lintels, the regulations advise that "opportunities should be considered to use products that help to reduce thermal bridges".
The "default value" for thermal bridges has been set at a higher level of 0.20 W/m2K, meaning without calculating the actual performance at each bridge it will be harder to be compliant.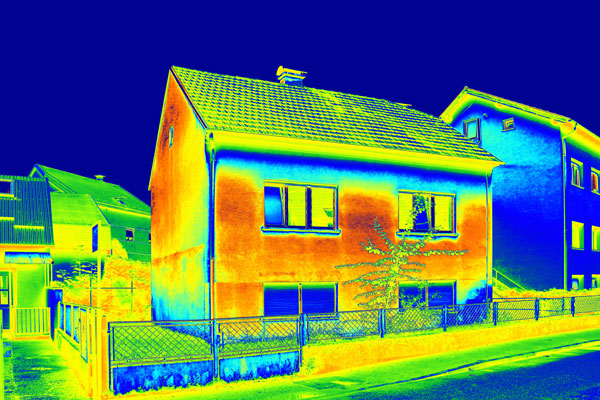 How can you demonstrate compliance?
The Government's aim is to improve compliance and ensure that 'as built' is as per the design. Photos will need to be uploaded showing specific parts of the build, which are geolocated to the property to ensure they are showing the correct build, including but not limited to:
– Foundation's substructure to show thermal continuity and quality of insulation
– External walls for each main wall type to show thermal continuity and quality of insulation
– Roof for each main roof type to show thermal continuity and quality of insulation
– Openings for each opening type to show thermal continuity and quality of insulation
– Airtightness
– All plant associated with space heating, hot water, ventilation and low or zero carbon technology
What are the potential impacts on you and your project?
Familiarise yourself with these changes and what they will mean for your current and future projects, with increased requirements for thermal efficiency across different project types, the impacts include but aren't limited to:
– Higher performance insulating materials are being used
– Potential for redesign/reassessment depending on what stage you are at
– Change of methodology to achieve the required performance across both walls' floors and roofs, particularly for extensions and renovations!
– Thicker walls/larger cavities to increase the amount of insulation used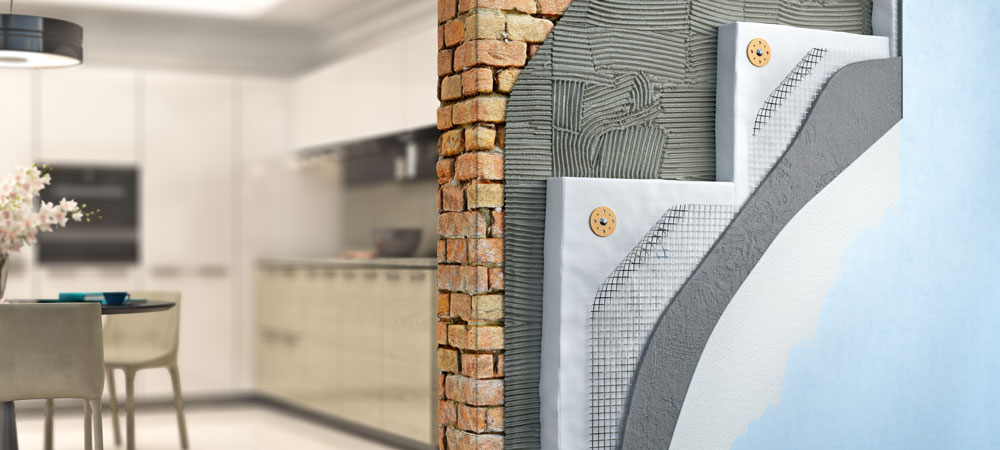 MKM is here to help
The new standards will soon become how we all work day to day, but until then, you can always contact your local branch for guidance and support and the right materials for your project. All our branches have access to in-house expertise, as well as extra support through our supply partners, providing you with all the information you may need. please just get in touch.
Useful links:
U-Value Calculation – Superglass Insulation Ltd
Conservation of fuel and power: Approved Document L – GOV.UK (www.gov.uk)
Approved Document L, Conservation of fuel and power, Volume 1: Dwellings – Part L – Conservation of fuel and power – Planning Portal
Common terms
What is Part L?
– One of the Approved Documents in building regulations
– It concerns the conservation of fuel and power, and sets energy performance targets that buildings must comply with
– Covers new dwellings, existing dwellings, new buildings, and existing buildings
What is SAP?
– Standard Assessment Procedure
– New dwellings are measured for energy performance against a standard known as the "notional dwelling" using government approved software
– Assessment is conducted at both the design stage and when work is complete
– SAP10 a new version is being launched to coincide with new more stringent insulation requirements
What is a U-Value?
– The measure of heat loss through a structural element (such as a wall or the floor) is calculated on the rate of heat transfer between the inner and outer face of a structure
– Measured in W/m2K – the lower the better!
What is thermal bridging?
Also known as a cold bridge, it is an area between structural elements where heat loss occurs due to a gap in insulation, such as a door or window.